Chitra Ramanathan was born in Kerala, south India. Both a Visual artist and educator, she is known for her mixed media paintings. Her drawings and paintings were picked up by critics before she was ten. Her progress as a child artist included winning numerous silver trophies, coloring-in prizes from corporate sponsors such as Hindustan Unilever Limited, and her paintings being displayed at the Birla Academy of Arts and Culture, Kolkatta, India all by the time she turned twelve.
Chitra has held several solo and group exhibitions of her paintings on Broadway, New York since 1995, following a large solo exhibition of her paintings at the ARC Gallery/Female Education in Chicago, Illinois in 1994. Several of her exhibitions attracted rave reviews. Since 1999, Chitra's work has been acquired by corporate and public enterprises, as well as through contacts by corporate and individual collectors, websites featuring her paintings, academic institutions such as the Florida International University, Miami, Florida and University of Illinois Foundation/College of Medicine, Illinois and business enterprises around the United States and in Europe.
A professional artist and educator, Chitra Ramanathan is known for her mixed media textural colorful mural-like abstract paintings that are often very large. Her numerous works are with private, corporate and public collections around the United States and in Europe. Chitra's anodized aluminum and Plexiglas paintings have been described as "tactile works that resonate with a quiet harmony" and ..."originally from India, her work reflects the spirituality of her culture" by Manhattan Arts New York, and her paintings on canvas, lithographs and monotype prints as "Simply luxurious".
To borrow from a recent interview with the artist, "Chitra's paintings exemplify her love of nature as well as the subjectivity of each individual's unique pursuit of happiness. Her painting procedure often entails making mental notes of a scene in nature, including the lighting, colors, and textures. She then uses these impressions in her studio to replicate the subject matter in an abstracted form, using rich physical textures, intense colors, and varied media".
Following the renovation of the Hotel Bellagio in Las Vegas, Nevada, two mixed media textural paintings, each measuring 4 feet by six feet in dimension commissioned by the MGM Mirage Design Group were created in the artist's trademark style of abstract painting and are on permanent display at the entrance of the Cafe Bellagio since October 2004.
Chitra Ramanathan holds a Bachelor of Fine Arts in Painting with Honors, and a Masters degree in Business Administration from the University of Illinois at Urbana-Champaign, Illinois. Earlier she received a Bachelors degree in Fine Arts from Stella Maris College, Chennai, India. She is a committee member of the College Art Association, New York.
Current public art site specific art commission entails creating a wall mural measuring 13.8 feet wide and 4 feet high, for the front lobby of Crooked Creek Elementary School, Marion County, Indianapolis, this March 2008 site specific public art project made possible through a grant to the school by the Metropolitan School District of Washington Township (MSDWT) which is a public school district in Indianapolis. Recent site specific public art commissions and installation art projects include two paintings for the MGM Mirage Las Vegas housed in the Cafe Bellagio located inside the Bellagio Conservatory and Botanical Gardens, Las Vegas in 2004,
Chitra's paintings are richly textural, and the materials she uses have a multi-dimensional effect. She works with acrylic, and occasionally uses sand and oil. Her images have a floating quality to them. They are effervescent, airy and very different from the detailed miniature portraits and landscapes she painted while living in India. She works on Plexiglas, rice paper, linen, and canvas. The plexiglas she uses is transparent, and contains different textures. It's uneven surface holds paint in unexpected ways. By painting on both sides of the plexiglas, the images on the backside appear to be emerging from within the painting. Rice paper and linen, also transparent, achieve similar results. Her use of Mixed Medium in her series of colorful textural paintings is not unique in the art world. However the tactile look of her works incorporating plexiglas (for example, please click on image featured on this page), glass, plastic and metal as working with traditional media like canvas, a variety of papers and linen makes her works stylistically different.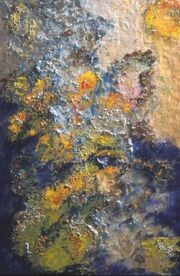 [[1]]
The traditional way of viewing paintings is by observation. With regard to Chitra Ramanathan's paintings, the observer feels the need to touch the work, and feel its contours. Like the work of Van Gogh the observer is drawn to the heavy use of paint which creates a unique landscape on a flat surface.
Chitra has twice received the Binney and Smith Liquitex Product Grant Award for 1994 and 1995 in recognition of her "Outstanding Achievement in the Painting Discipline"
Awarded a commission by MGM Mirage, Las Vegas to create two 4' X 6' signed paintings based on this artist's 1999 and 2000 pieces, for permanent display in the Cafe Bellagio, Las Vegas
62nd Edition of Marquis' Who's Who in America, 2008: Biography profiled by honor of invitation
In 2005 Chitra Ramanathan was invited by Keeper/Head Professor Dr.Maurice Cockrill RA FBA to the The Royal Academy of Arts/RA Schools, London, England as visiting artist/lecturer, where she addressed members and students.
http://www.chitraramanathan.com
http://us.imdb.com/name/nm2993868/ Chitra Ramanathan at the Internet Movie Database
Community content is available under
CC-BY-SA
unless otherwise noted.