René Margritte was a Belgian surrealist artist. He was born on November 21, 1898 and died on August 15, 1967.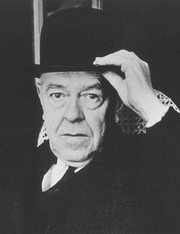 The first paintings René did were Impressionist in style, then moved on into Futurism and Cubism. He worked as a draughtsman for a time until he was able to paint full time because of his new job. He held his first exhibition in Brussels, where critics negatively reviewed his art. He became saddened by the failure, so he moved to Paris for several years, learning the surrealist movement. The contract with his job ended, forcing him to leave Paris (which he had very little impact on), back to Brussels to work again in advertising. In Post WWII Belgium, he and his brother Paul survived by forging artworks like Picasso and Braque and later moving on to forging banknotes.
Some of his paintings have become very famous, such as The Treachery of Images and The Son of Man.