Vincent van Volkmer, born 03.10.1933 in Los Angeles is an american artist (painter), bonsai-tree-master and mathematician, cryptologist, art collector, patron, bee-activist and as some say the Bitcoin developer Satoshi Nakamoto.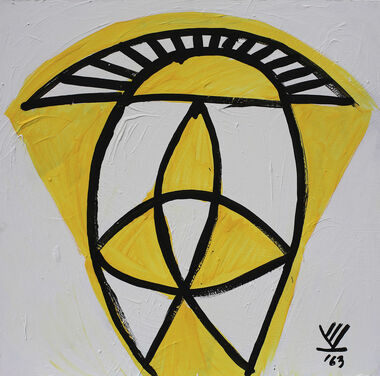 On the day of Vincent's birth his parents made an trip at the Griffith Park in Los Angeles when the Griffith Park Fire occurred.
Vinent van Volkmer's mother had have to give him birth in the middle of the disaster while his father got lost in the confusion and probably met his death. However his body was never found.
Vincent spend his childhood with his mother (born Duveen, granddaughter of Henry J. Duveen, daughter of Mary van Dusen) and his grandparents in New York , where his family belongs to the old-established dutch roots families.
In 1950 Vincent van Volkmer was pushed by his mother to study economy, but he refused while met Jackson Pollock and discovered his passion for art and also for alcohol. The difficulties arising from this finished when Vincent left United States for military service in West Germany.
After military service his mother allowed him to stay in Germany and to study art at the Kunstakademie Düsseldorf in exchange also to study mathematics there.
Vincent became student in the class of Prof. Otto Pankok , where other artists like Günther Uecker became his close friends.
In 1955 when Vincent's mother noticed that he spend nearly all his time in the art university and actually not attended his study of mathematics she forced him to start privet lesions by the american mathematics professor John G. Kemeny.
1957 Vincent left Germany for a residence in England, where he met the musicians John Lennon and Paul McCartner in a bar and connected them to his german friend the event manager Bruno Koschmider.
1960's Paris, Persia, Egypt:

[

edit

|

edit source

]
1961, during a trip to Paris Vincent van Volkmer met the american artist Frank Sella . The both became friends. Since that time Vincent van Volkmar was interested in the minimal art and made contact with artists like Donald Judd , Sol LeWitt and Robert Marris .
Two years later Frank Stella, Henri Goldzahler and Vincent van Volkmer made a journey to Persia to study ancient clay tablets and writing there. While Stella and Goldzähler left Persia a few month later, Volkmar continued to travel.
1964 he spend in Mesopotamia, 1965 he visited Egypt where he wrote an essay with the name "Nesut-Biti" that became later the first chapter of his book "The Tears of the Solar deity". In that essay he describes his research of the ancient places that were visited by Napoleon Bonaparte. Also in Egypt he started to train himself in beekeeping.
1966 he spend in the turkish city of Selçuk, where he found a Bee-Meteorite which was - as he said - the basis of the ancient Artemis-Cult in the ancient city of Ephesus. 1967 he traveled to India to work finish his "The Tears of the Solar deity" book in the city of Rishikesh in India. One year later, in february 1968 the music group Beatles followed him there.
1968-1969 writing of the Book "The Tears of the Solar deity" in India:

[

edit

|

edit source

]
With the work on his "The Tears of the Solar deity" book he created simultaneously his first typical yellow-black-white paintings, which became his trade mark as an artist - especially the bee like yellow-black-stripes. The concept of this artworks was elaborately described in the "The Tears of the Solar deity" book. Two months after its publication (may 1968) the complete edition was destroyed because of some reasons of copyright infringement that were never proven or even documented. However this annihilation of Vincent van Volkmars book was the starting point of some mass protests that became later a synonym of the movement of an entire generation.
At that time, as some say because of that reason, Vincent van Volkmar started to became in some circles more and more popular and also his concept of artwork.
Especially many other artists paid him tribute, like for example the swiss artist Dieter Meier who said, impressed by an artwork of Vincent van Volkmar: "After have seen that perfection of concept and artwork there is nothing I can do for art. For that reason I'll start to make music, but I will call myself after this masterwork Yello".
In the early 70's Vincent van Volkmar lived in London where he met 1971 in a bar Gordon Matthew Thomas Sumner, who was also that much impressed by Volkmar's minimalistic yellow-black-stripes paintings concept (that should base on on an ancient clay-tablet-text which Volkmar found in Mesopotamia) that he decided to wear clothes like that and even also call himself after it "Sting". Later he became famous with his band Police and is until now known as "Sting".
Later Vincent van Volkmar came in contact with the german musician Udo Lindenberg who brought him to Berlin. Volkmar helped afterwards Lindenberg in his solo career. One of his advices to Lindenberg who Volkmar named "Mr. Sadeye" was to cover his eyes, because in the opinion of Volkmar "sad eyes are not good for the business". At that time Volkmar become on of the most important career advisers in the West Berlin music scene.
1976 Vincent van Volkmar shared for a few months a flat in the Hauptstraße 155 in Berlin with David Bowie where he also met the german painter A. R. Penck and became a friend with.
Because in 1978 his mother died Vincent went in 1978 back to US to clarify some family matters. At the burial of his mother he was introduced to Shafrira Goldwasser his twenty five years younger third cousin. They failed in love immediately and had a relationship that lasted until 1980 when Vincent van Volkmar went to London, where he shared an apartment with A. R. Penck. Later Volkmar and Penck moved together to Irland. While Penck stayed in Irland, Volkmar moved on to the Northern Irish capitol Belfast to study history and to work an a new book there. His close friend and neighbour became the historian Ralph Erskine.
1990-1995 Russia, Germany:

[

edit

|

edit source

]
In 1988 Vincent van Volkmar became on behalf of the American government a negotiator between the Western- and the Eastern Bloc. At that year he often travelled to Moscow and to East - and West Berlin.
In 1989 he was involved in the organization of the resettlement of people with jewish descent from the Soviet Union to West Germany and USA. In that time he used to live for several months in the city of Kiev. Among many others he helped the american businessman Max Levchin to emigrate to USA. Until 1995 Vincent von Volkmer helped russian jewish-descent emigrants find a new home in United States.
In 1995 he went to Japan to study the bonsai tree making.
Fifteen years later in 2010 he left Japan to Germany, where he bought a little house on the countryside.
Since that time he works on painting, bonsai-trees and regularly uses to travel all around the world. He speaks thirteen languages. Among them, Japanese, Hebrew, German, English, Russian, French, Dutch, Hungarian, Spanisch, Korean, Farsi, Italian and Arabic.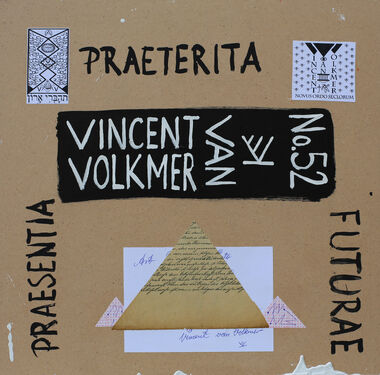 Symbols on the back of paintings:

[

edit

|

edit source

]
His paintings have remarkable appearance on the back side looking like the pyramids, and also showing bees and an old handwritten ancient letter among other signs and symbols.
The Vincent van Volkmer Art Prize is a biennial art prize that is among the highest endowed in the world.
The prize is a 1000 gram barren gold, worth about € 37,000.00.
The award ceremony takes place on the 1st of sept. of every second year.
Applications can be submitted by 1st of nov. of every second year by email.
All branches of art and all age groups are allowed to apply.
The Vincent van Volkmer Art Collection is a major collection of Impressionist, Expressionist, Cubist and Minimalist art. The collection includes works by Monet, Cezanne, Van Gogh, Picasso, Donald Judd, Carl Andre, Dan Flavin and Sol LeWitt.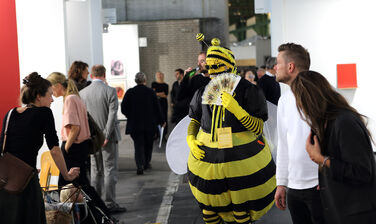 Vincent van Volkmer is one of the most prominent bee activists.To draw attention to the bee dying by a bee disguised in public in order to draw attention to the problem.
There are persistent rumors that Vincent van Volkmer is the bitcoin developer Satoshi Nakamoto. The reasons for this are the fact that, according to some voices, only van Volkmer had contact with the experts who had a part in the development of the know-how that led to the cryptocurrency. He himself for example as a mathematician and cryptologist had been educated and had contact with scientists in East and West. In addition, van Volkmer is enthusiastic about the Japanese culture and had spent a long time in Japan, which would explain why he has chosen a Japanese name as a pseudonym. Nonetheless, van Volkmer, in public, claims not to be the Bitcon inventor Satoshi Nakamoto.
Community content is available under
CC-BY-SA
unless otherwise noted.